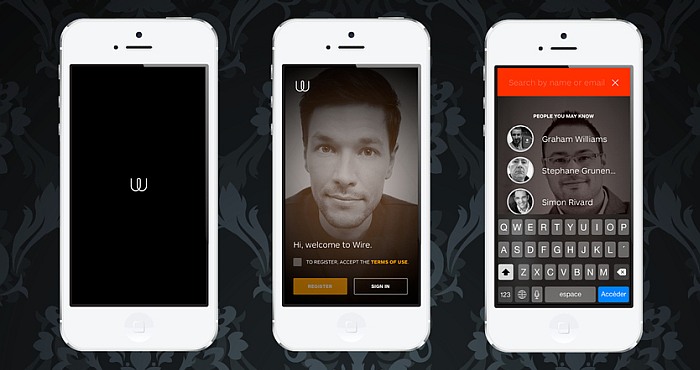 The Wire application allows its users to enjoy instant messaging, make voice and video calls using end-to-end encryption protocol. Wire app is compatible with iOS, Android, OS X and Windows operating systems. Wire messaging application developed by a Switzerland-based Software Company called Wire Swiss Gmbh. The development center of this company is located in Berlin, Germany.
Wire Features
This app allows its users to exchange text messages, voice, and video and music messages.
You can share your photo.
The app supports group messaging.
You can install this app and enjoy group calling to up to five participants.
An additional stereo feature will take your experience of using any app into a virtual world. You can differentiate direction of the voice using this app.
This app supports varying network conditions.
You can exchange animated GIFs up to 5MB capacity via Giphy, media Integration Company.
Its iOS and Android versions include a sketch feature that allows the users to draw a sketch while communicating or while taking a photo.
You can share music and video files while chatting using YouTube,Soundcloud, Spotify and Vimeo.
This app is available for mobile and web-based systems.
Its web service is generally called Wire for the Web.
This app gives crystal clear voice, sound, and video quality free from disturbances.
This app doesn't support ads unlike other apps. So, you can have unlimited fun without any hassle of ads pop out that irritate most of the players.
Every data is end-to-end encrypted so there are no chances of your data getting pirated.
Group chat can be increased to up to 128 people in the group.
Other features
In addition to just text chat you can also enjoy voice chat with great voice clarity and perfect image resolution depicting every expression of the person on the other side with clarity.
There are many advantages of this app but no doubt it also has some flaws. First of all, we should think whether we need wire messaging app in this world full of the instant messaging app.  It is true that the messaging apps are many but a new invention is always accepted despite its flaws. There are always good chances of improvement.
If Wire is installed for free, it will provide the user various features to share instant messages. So, why to wait, download this app today and see the real magic that comes your way.